A Biography of Sorts...
The Early Years (1969 - 1989)
Johnny Forlorn (aka John Clough) grew up in a suburb city of San Francisco, California. He had taken piano lessons  until he reached his freshman year in high school where he also learned guitar as an elective. Borrowing his mother's acoustic, he took the class for a year before joining his first band, Dey Tephe in 1986 as the keyboardist. For Christmas that same year, his mother had bought him his first keyboard, a Yamaha DX7. Dey Tephe was a New Wave band influenced by New Romantic bands such as Japan and Duran Duran. Upon turning 18, he moved to San Francisco but continued to play for Dey Tephe. It wasn't soon after however that the band finally went their separate ways. Then during the  summer of 1989, he moved to Seattle to start taking courses in sound engineering at one of the recording studios there, Horizon Audio.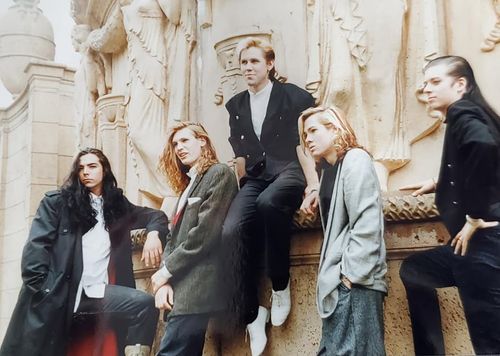 Prayers for the Raven (1989 - 1993)
Seattle, 1989, was the year that Nirvana just released Bleach on Sub Pop records. The previous year, the label had just released their first single from Mudhoney. Grunge was in it's infancy and the music scene  was starting to turn their heads towards the Pacific Northwest. When John arrived in Seattle that year he started work at one of the retail stores along the waterfront where he met Daniel Blackmoor who convinced him that he should join his new band Prayers for the Raven. In a city full of grunge and metal there were few goth bands. The closest Seattle had to offer at that time was Sky Cries Mary. Prayers for the Raven had found a hungry niche and played their first show on Halloween night at the local C.O.C A. hall.   
Afterwards the band, while using a drum machine, quickly put together a 6 song demo tape and starting gathering a following playing at the few local clubs there were. The following year (1990), they would bring in drummer, Barry Semple. They would also record their first CD, "A Sacred Ground", at Reciprocal Studios with Chris Hanzsek engineering and co-producing. Hanzsek had produced many noteworthy bands such as The Melvins, Soundgarden, The U-Men, Skin Yard, and Green River.   
They found moderate success playing locally and throughout the Pacific NW to the goth and alternative crowds. By the end of '91 and into early '92 , both the guitarist, Steve Graham, and the bassist at the time, Martin Adams, left to form a new band, Laudanum. Prayers soon replaced them with guitarist Brian Castillo (pFrenz-c), and bassist Erica "Raven" Butler (The Hammerdowns, Legion Within). With new material, they went back to the studio to record their second album. The album, tentatively titled, the "Benediction", would unfortunately never be released and the band dissolved by the end of 1993.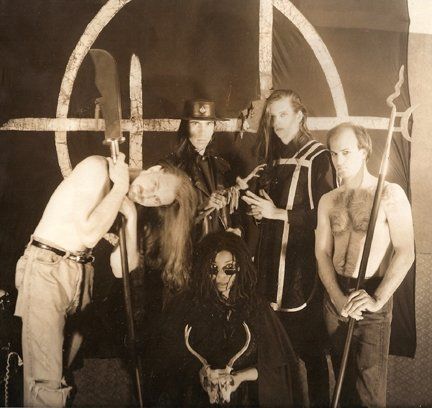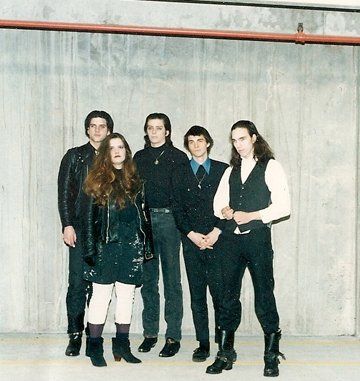 Faith & Disease (1992 - 2006)
During Clough's time with Prayers for the Raven, he met Eric Cooley and Dara Rosenwasser at a show the two bands were playing together in 1992.  Both Prayers for the Raven and Faith & Disease would end up playing many shows together attempting to draw in larger goth audiences. F&D had a keyboardist already at their first few shows but they exchanged numbers anyway. It wasn't long after those first few shows that Clough was asked to come and play on the band's second 7-inch, Voltaire's Valerie/ Igloo.  When F&D parted ways with their keyboardist, they asked  him to join. Their first full-length album, "Beauty and Bitterness", on Ivy Records would be released in 1994. Clough would sit out on Faith & Disease's next album, "Fortune His Sleep", but would return for each of the next 6 albums. The four albums to follow "Beauty and Bitterness" would all be on the Ivy Records label. In 2000, the band would sign to Projekt Records and record two more full-length albums, "Beneath the Trees" (2002), and "Passport to Kunming" (2003). Faith & Disease would play their last show in Seattle in 2006.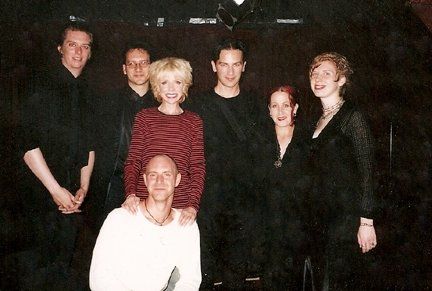 Shadow Light (1994 - 2001)
After the breakup of Prayers for the Raven, Clough decided it was time to front his own band and created Shadow Light. He had several songs that he had been writing for Prayers that never got a chance to be recorded so took the material and produced his first cassette demo with the help of Brian  Castillo on bass/guitar (from Prayers for the Raven) and Greg Forschler (guitarist of Fear of Dolls, Ninth Circle, and later Faith & Disease). In 1995, Shadow Light recorded their first song for a Mere Mortal Records' Joy Division compilation. That song was, "The Eternal", and featured B. Castillo on guitar, E. Cooley on bass from Faith & Diease, Gordon Raphael from Sky Cries Mary, and Katrina Bakker singing backing vocals. In 1996, Shadow Light would release their first full-length album, "Within the Shadow Light", on Ivy Records, the same label as Faith & Disease owned by David Goble. Many of the songs were sequenced with drum machine tracks, but Barry Semple (from Prayers for the Raven) added live drums for live performances. 
Clough's stage shows were often elaborate and involved performance dancers along with a host of musicians. Large props were constructed that had to be set up and taken down between songs.  There were shows that he would be crucified on a cross, sang from graveyards or insane asylums, or take part in the performance artist's choreography (Denise (last name ?), and Bill Ball).    
In 1997, Castillo left Shadow Light to focus on his own music projects, pFrenz-c and  Salon Betty. Daniel Blackmoor formed a new band, the Hammerdowns that included bassist Erica Butler and Barry Semple from Prayers for the Raven. Daniel would also manage the band Salon Betty that his wife at the time was fronting.  Yes, it was all very incestuous from a band member perspective. 
From an ad placed in the local paper, the Stranger, Clough met guitarist Steve Bergstrom. The two hit it off and started writing music for the second album along with new drummer Jeremy Hill.
During this time period, Bergstrom and Clough started their own record label, Tragick Records (1998). They would release not only Shadow Light and Bergstrom's other band, The Dapper Jones, but also would sign pFrenz-c, and a new band to the scene, Legion Within.  Shadow Light's second album, "Hello Darkness", would be Tragick Record's first release in 1999.
Shadow Light always seemed to have  a revolving door of musicians but two names of note that now joined were Josh Van Winkle who took over for Hill on drums and Tom Barrett on bass (currently of the band Dead Wave). 
Unfortunately, despite fairly heavy radio, magazine, and club promotion, SL failed to find any true success. Clough and Bergstrom decided to end the band. Bergstrom fronted The Dapper Jones until 2015 before forming The Finger Guns who are continuing to rock the NW.